Drawings and Dimensions
Some freezer dimensions and CAD drawings with keg combinations at this thread. Two of the pictured freezers stick out, since they can carry two Sanke-kegs, and are only 25" deep.

Danby 10.2cf DCFM289WDD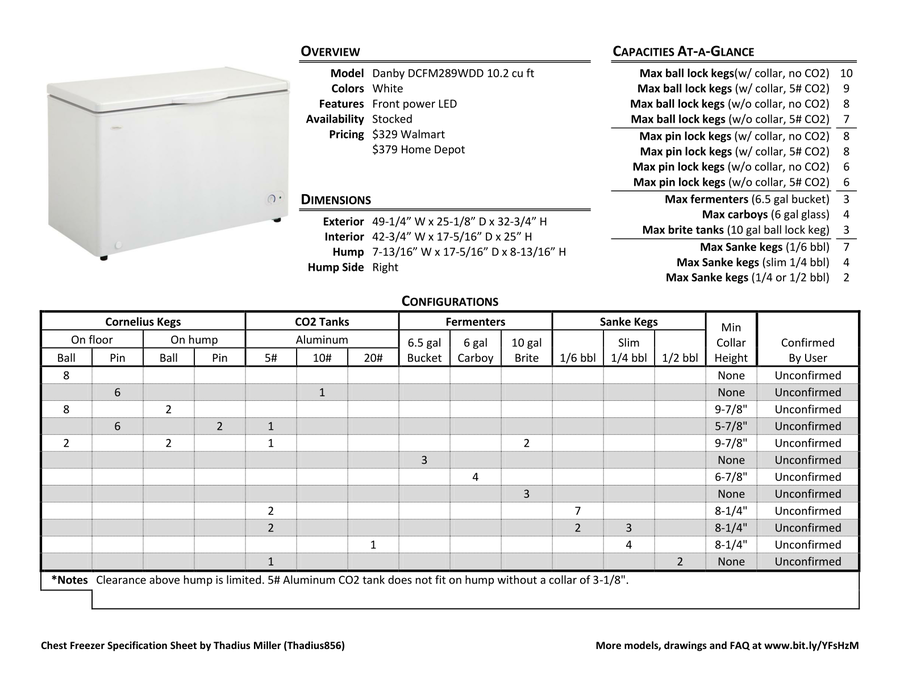 The freezer is not very tall and hence will need a collar to fit the tappers..
The HBT thread for a keezer build based on this freezer is at this link.
Parts and Pieces
Use forward sealing beer taps ( like these ) to avoid dried beer sticking and gumming the seals (leading to dripping faucets)
use two 5 pound gas bottles instead of 1 big one - if bottle runs out, other one takes over, smaller foot print
Flow sensor build instructions and ordering form, or even better, food grade flow meters on ebay, rumor on the HBT forum has it that the seller accepts $20 per item.
Quick changers? See here...
RaspberryPint instructions at this thread
Parts of this will have to be remoted, but display is still on Amazon FiretV in back yard. Check Silk as the browser to use, it is based on Chromium (which is used in Raspberry Pint)

Firefox can be installed, .apk in Download
on FTV, firefox downloads files into sdcard/Android/data/org.mozilla.firefox/files/Download/
Add shut-off valve logic

All kegs shutdown at night and in the morning
Add bluetooth receiver or the mobilinc location status to enable beer lines
If more than 2 liters are poured at once, shut down that line (someone/something left it open?)
Shut down if a 'keg kicked' signal is received (to save CO2)
valve board and flow meters
Brewing
Fermentation
* need to upload gdm-23 parts list